When I was a young child our school had 'tours' rather than field trips. There would be an average of about 2 a year usually to the Zoo or to the theatre at christmastime. The Natural History museum and art galleries where my favorites as the 'tour' mix was rehashed each year, they never ventured out of the security of the theatres and museums; much to the pupils dismay . For a geek child like me I was really happy with the tried and tested formulae, (thinking back, there must have been a touch of Martin from the simpsons about me back then).
The`Hugh Lane Municipal Gallery of Ireland was one such port of call on a 'tour'. I remember the topical exhibition for that particular day well as it was exhibiting toy designs through the ages (guaranteed to capture the attention of all 11 year olds). In one section of the building there was a 'dark room' , dark so much as it was black marble walls with sections cut out which illuminated the stained glass works of an artist called Harry Clarke. I was enchanted when I seen Keats' The eve of St Agnes' with its fairytale qualities, the lusciousness of color and incredible detail. I remember buying all the postcards available of his works in the museum shop afterwards. I was hooked. My teacher at the time gave me the address's of various churches and places where his works where in situ in Dublin. They became regular haunts of mine when I got older and more independent, appreciating it that little bit more of this Oh so impeccably rendered work.
As you can see from his style he is quite original. His use of Cobalts, indigos and emeralds give his subject content a more spectral and otherworldly quality . He has been described as Ireland's greatest stained-glass artist and arguably the finest of his time in any country. On top of that, he was an illustrator of genius and wide range, particularly in black and white, whose works in this field have been collectors' items for decades.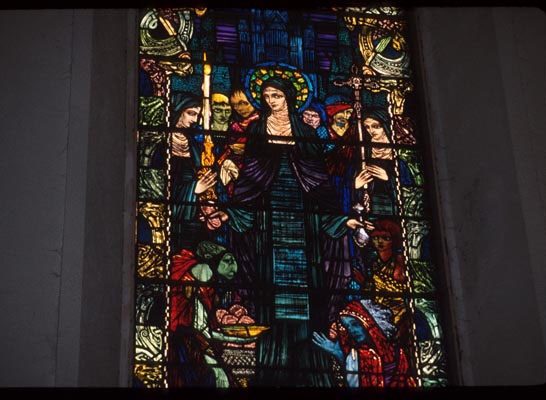 Born in Dublin to Joshua Clarke, a Stained glass manufacturer, Harry, when 16 completed his education in his main field, and travelled to London, where he sought employment as a book illustrator. Picked up by the famous London publisher George Harrap, divined his genius and hired him, on the spot, to provide illustrations for an edition of Andersen's Fairy Tales in both a trade and deluxe edition - almost unheard of for an untested, unknown and very young illustrator he started with two commissions which were never completed: Samuel Taylor Coleridge's The Rime of the Ancient Mariner (his work on which was destroyed during the 1916 Easter Uprising) and an illustrated edition of Alexander Pope's The Rape of the Lock.
Difficulties with these projects made Hans Christian Andersen's Andersen's Fairy Tales his first printed work , this was closely followed by an illustrations for an edition of Edgar Allan Poe's Tales of Mystery and Imagination. The latter of these made his reputation as a book illustrator . The last of these is perhaps his most famous work, and prefigures the disturbing imagery of 1960s psychedelia. It's very important to realize that Clarke wasn't just illustrating books. To only consider this aspect of his creativity is greatly misleading. Illustrations may have paid the early bills, but stained glass was his career.Unfortunately, ill health plagued both the Clarke brothers, and worn down by the pace of their work, and perhaps the toxic chemicals used in stained glass production, both died within a year of each other -- Harry second in early 1931, of tuberculosis while trying to recuperate in Geneva Switzerland. Harry gave me a deep appreciation for his profession and set a certain standard that not many can come close to. The Irish people should hang their heads in shame for not singing their sons praise to the world as in my opinion he belongs up there with Klimt, Mucha, Beardsley for international crittical acclaim. If you ever venture into this little corner of the world do yourselves a favour, visit the gallery and enter the realm of clarkes fantasia. You will not regret it.