I have never claimed to be word perfect either in vocabulary, spelling or grammar but whats been poking the hamsters wheel in my head this weather is the way people are speaking and writing text speak. Its kinda contradictory that I will use expletives to convey my frustrations of these lazy bastards (I was going to call them uneducated bastards but they are not - I mean how many of us have gone to school and learned the word 'that', to be only abbreviated to 'dat'? Its only one fucking extra letter to write!!)If you are one of the unlearned masses that stalwartly refuses to either learn to spell or wash, then you may be in need of some enlightenment regarding your free fall into your own embarrassing stupidity - am I being harsh? Yes if you refuse to spell out basic words and numbers in the order which you were originally taught!!
This form of laziness seems to be spreading like wildfire,for example, whilst looking at youtube and reading comments on the various videos I'm watching (e.g., "Major Failur"), its incredulous the amount of people who refuse to spell simple words in order to look cool.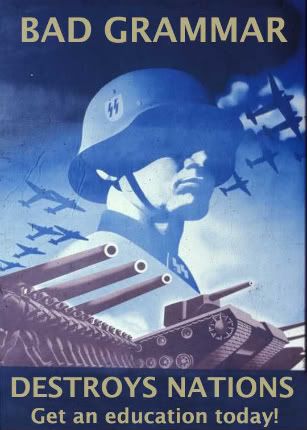 There seems to be a lot of people that feel the same ,recently I have some across this forum
Here
They have a system called 'Smartness' which I reckon is a good idea, it may seem a little strict comma-wise but this is the run down of it
"Smartness
There's a lot of confusion about the smartness system. People are dumb and they don't know why. Here I'll try to explain some of the common reasons.
YOU DON'T LOSE POINTS FOR:
Saying words that aren't in the dictionary.
Saying usernames.
Quoting dumb people.
YOU DO LOSE POINTS FOR:
Saying lol, wtf, rofl, omg, o rly, rox0rs etc.
Typing in all lower case.
Not using proper apostrophes (dont wont cant im instead of don't won't can't I'm).
We're basically trying to stop people being lazy dumb idiots. Just type properly. I know people like to feel like the system is broken - but the fact is that they're just dumb lazy *****.
There's no real rewards to having a high smartness level but if your smartness drops below a certain level you will be automatically banned for a few days."
Now I'm no elitist, when writing I make errors but I can be forgiven for trying at least.'Smartness' is a great idea, can you imagine the chaos this would cause if implemented on Bebo, Myspace or Facebook? In conclusion, it seriously upsets me to give you anymore examples and research into this dark area. I'm just so tempted to join up to all these forums/comment box's and berate them for their laziness.
Before anyone points out the irony of my post I am aware that there are grammatical and spelling errors throughout.